An ankle sprain is one of the most common types of ankle injuries. Ankle sprains often occur when someone "rolls" their ankle during a sports activity or when walking or running on uneven terrain. Sometimes a "pop" in the ankle is felt or heard during the injury. Ankle sprains usually involve injury to a ligament, but fractures and cartilage or tendon damage also are possible.
The most common type of ankle sprain is an inversion sprain. With this injury, the foot rolls inward in relation to the ankle. This type of sprain most often involves injury to one or more of the three ligaments located on the outside of the ankle.
Ankle Sprains Treatment
Some injuries are mild and require minimal treatment. Other ankle injuries are more severe and can lead to significant pain and disability. Appropriate treatment is important to help prevent any long term problems from the sprain.
Immediately after an ankle sprain, you should put ice on the injured area, elevate your foot and apply compression (e.g. ACE wrap). An easy way to remember the correct treatment is to use the word RICE:
Rest
Ice
Compression
Elevation
Medical attention should be sought for sprains if it is difficult for you to bear weight on your foot or ankle or if you are unable to return to normal activities a few days after the injury.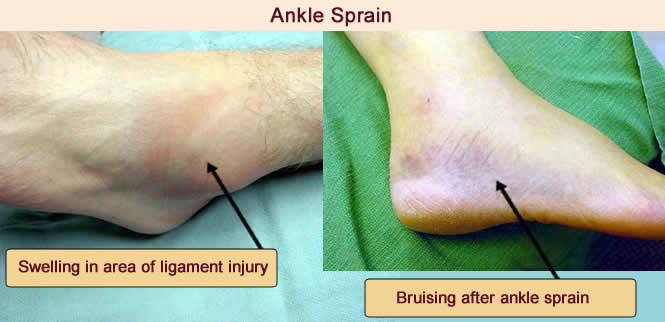 One consequence of an ankle sprain can be instability in the ankle which leads to even more ankle sprains. An ankle sprain can disrupt the nerve fibers that are responsible for ankle balance. Appropriate rehabilitation exercises, or treatment by a physical therapist, can usually restore normal ankle function and stability.
People who sprain their ankle multiple times may develop chronic ankle instability. With this condition, you are more prone to re-injury because the ankle is no longer able to resist abnormal motion. Physical therapy, an ankle brace or perhaps even surgery are often required at this point.
Balance Disk for Rehab of Ankle Sprains and Achilles Tendinitis
We Can Help
If you are suffering from acute or chronic ankle pain, call us at (317) 573-4250. Our doctors can make the correct diagnosis and help you find the best route to a complete recovery from an ankle sprain.