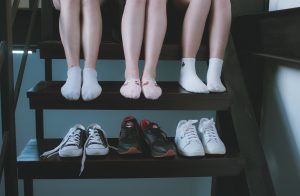 Do you or someone you know have smelly feet? Medically known as bromhidrosis, feet that have an odor are a common year-round problem caused by sweat and wearing the same shoes. The foul smell occurs when excess foot moisture allows common skin bacteria to overgrow. Although anyone can have smelly feet, pregnant women and teenagers are common targets because of hormonal changes. Excessive sweating is called hyperhidrosis (3% of the population), and often times those diagnosed have sweaty palms as well.
To avoid and treat foot odor, you can do the following:
Wash your feet daily with antibacterial soap, making sure you clean between your toes.
Dry thoroughly with a towel and apply cornstarch or antifungal powder.
Wear wicking socks that draw moisture away from your feet (avoid 100% cotton socks).
Change socks throughout the day.
Wear shoes that are made of breathable materials, and try not to wear the same pair two days in a row so that they have time to air out.
Spray antifungal spray in your shoes prior to wearing (we sell a great brand in our office).
A technique called iontophoresis has been found helpful for at-home use for sweaty feet sufferers.
When to seek professional help
If your feet sweat excessively, seek the help of a podiatrist. According to the US National Library of Medicine, "less than 40 percent of people with excessive sweating seek medical care." There are many different treatment options including antiperspirants, Botox injections, and oral prescriptions. Good hygiene is key to preventing sweating and odor.
Our doctors at Indy Podiatry can help you control your excessive sweating and end embarrassing odors. Give us a call today at 317-573-4250.