Tendons are the structures that attach muscles to bones. They allow the energy created when muscles contract to be transformed into movement. Without healthy tendons, our ability to move is hampered. Without strong, healthy tendons in our feet and ankles, standing, walking and running can become difficult and painful.The Achilles tendon is the strongest tendon in the human body. It attaches the calf muscles to the foot.  Achilles tendinitis occurs when this tendon becomes injured or inflamed.
Achilles Tendinitis Symptoms
Walking can be painful.
There is usually more pain when standing up after sitting or sleeping. This pain may diminish or disappear as you walk.
As the problem worsens, pain can be present throughout the entire day.
Swelling may be present.
A slight squeeze of the tendon is usually painful.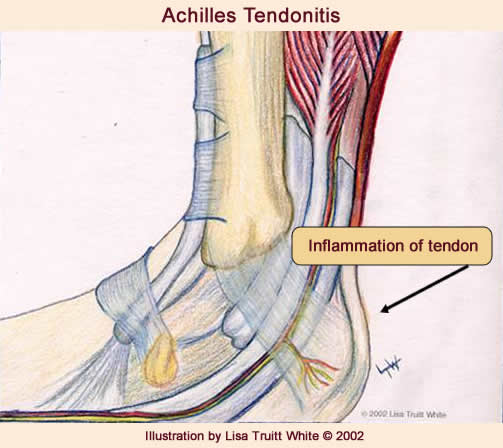 Achilles Tendinitis Causes
This problem often occurs related to a sports or exercise injury. Overuse injuries occur when too much repetitive stress is placed on the tendon in a short period of time. Adding too much distance too quickly to a walking or running program could cause an overuse injury to the Achilles tendon.
People with calf muscles that are not sufficiently flexible are prone to developing Achilles tendinitis. Frequent use of high heel shoes can contribute to causing this tendon strain. Using too much incline on a treadmill or walking or running on a hilly terrain can lead to an Achilles injury.
Acute injuries often affect the Achilles tendon as well. This would be a single incident that places too much strain on the tendon. This could occur with a sudden twist, a jump, or from a direct blow to the tendon. If the damage is significant enough, the tendon could even rupture. People often relate hearing or feeling a distinct "pop" when the tendon acutely ruptures.
Achilles Tendinitis Treatment
Initially, treatment has to involve rest. Every step you take requires the tendon to be used and this slows or prevents healing. It will be necessary to temporarily stop your exercise regimen and decrease the amount of time you spend on your feet. Often, the use of a removable walking cast is needed. This allows the calf muscles and tendon to completely relax so that healing can proceed.
As the tendon heals, introduction of specialized strengthening exercises can decrease the stress on the tendon. In some cases, treatment by a physical therapist is necessary to help you accomplish full healing and rehabilitation of your tendon and leg.
EPAT (Extracorporeal Pulse Activation Treatment) is a relatively new therapy that has been shown to be effective in resolving both acute and chronic cases of achilles tendinitis. Studies show success rates of 75% and higher. Drs. Helms, Higgins and Chhiba are all trained to perform this procedure.
6 Tips to Alleviate Achilles Tendon Pain
Achilles Tendinitis Eccentric Exercise Video
Balance Disk for Rehab of Ankle Sprains and Achilles Tendinitis
Calf Stretching and Core Exercise Videos
Calf Stretching 1
Core Exercises 1
We Can Help
If you have pain, burning, tingling, or cramping in your foot, call us at (317) 573-4250.  Our doctors will help you find the quickest and most appropriate recovery from Achilles tendinitis.