Did you know that in any given year more than half of all runners incur an injury that forces them to stop running, sometimes for weeks or months? Fortunately, there are many actions you can take that will decrease your risk of injury and allow you to continue running.
Strengthen your core – a strong core is essential to a smooth, efficient running stride. A weak core increases your risk of a running injury. You should devote a minimum of 15 minutes twice each week to a core strengthening program.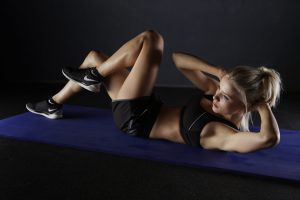 Balance hard running with rest days – it is essential that we allow our bodies the opportunity to rest, recover and adapt to increased training. Overtraining by failing to allow adequate rest days will significantly increase your likelihood of developing a running injury.
Stretching is not a warm-up – to prepare your body for running, start by walking or running slowly and gradually increase to your desired pace over a period of several minutes. Jumping into a run at your mid-run pace strains your muscles, tendons, and ligaments and increases your risk of an injury.
Increase your training distances gradually – Adding too much distance too soon may be the single most common cause of developing a running injury. Limit weekly increases in the amount of time you run or the distance you cover, to 5 to 10%. After increasing your distance total for a week or two, allow yourself a week of less running to let your body strengthen and repair. Then resume your 5 to 10% increases.
Cross train – Strengthening your legs with non-impact exercise allows your body to better handle the stresses of running and decreases your injury risk.
Choose the right shoes – Don't be fooled by shoe fads. Most runners will do best in a neutral shoe (light stability or non-stability). Follow our running shoe guide and replace them every 300 – 400 miles.
Some foot types need special shoe inserts – Unfortunately, many of us are born with foot types that increase the risk of running injuries. For instance, varieties of high arches (pes cavus) or flat feet (pes valgus) put abnormal stresses on the feet and legs when running. We can fabricate a custom shoe insert that will mitigate these abnormal forces and decrease your injury risk. Orthotic devices are also often essential to help recover from certain injuries such as plantar fasciitis.
Get the right shoe fit – Wearing shoes that are too small is very common and unfortunately increases your risk of toe pain and injury. Make sure you have a full thumb's width between the end of your longest toe and the tip of your shoe when you are standing. Our feet naturally swell as the day goes on so be sure to buy your shoes after running or later in the day.
Vary your training surface – Try to incorporate different running surfaces such as dirt trails and grassy terrain into your exercise regimen instead of just running on hard surfaces. This variation will increase your lower extremity strength, improve your balance and decrease your injury risk.