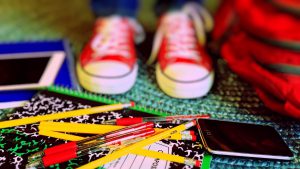 The end of summer is quickly approaching, which for parents and children can only mean one thing—the beginning of a new school year. Back-to-school shopping is an annual tradition for many families, and can often be stressful for parents, and exciting for children. However, we have some tips to help keep you prepared this year when buying new shoes.
1. Shop for new shoes in the afternoon or evening. During the course of the day our feet normally swell a little. Buying shoes later in the day helps assure a better fit.
2. Don't buy shoes with "room to grow," as this can affect muscle development and activities. There should be a thumb's width between the end of the longest toe and the end of the shoe.
3. Be sure to have both feet measured. Often one foot is a little longer than the other one. Buy the shoe size that fits the larger foot, and always stand up for foot measurements.
4. Try on both shoes and have your child walk around the store to check for comfort.
5. When trying on shoes, have your child wear the same type of sock they plan to wear with the new shoes.
6. If your child wears orthotic devices, take these with you to try in potential shoes.
7. Do not buy shoes that feel like they need to be broken in. Shoes should be comfortable immediately.
8. Measure your children's feet every three months to monitor growth. It is not unusual for a child's feet to grow two to three sizes in one year.
9. Avoid buying shoes online, and visit a physical store with sales staff knowledgeable in shoe fitting.
10. Avoid hand-me-downs, as worn shoes are shaped to fit the previous owner's foot, and don't offer the same support.
If you have any questions or concerns about your child's feet or ankles, please call our office today at 317-573-4250.